Attendance Allowance 2021
The Attendance Allowance payment is used to help elderly folk with their daily care needs (e.g. washing, getting dressed). Above all, the financial support is for people with a disability who have already reached State Pension age and need extra help or supervision.
There are two different rates for Attendance Allowance. As a rule, the severity of a disability will determine how much attention and care the person needs – and therefore how much they will get.
To qualify for the weekly payment you would need to be (both):
Physically or mentally disabled
A pensioner (e.g. State Pension age or older)
Unlike certain other benefits and allowances, this one does not cover mobility needs. But, a successful claim can increase some of the other benefits that you may be getting.
Note: You can still claim Attendance Allowance even if no one is looking after you (e.g. you live alone). But, having a carer look after you means they could get the Carer's Allowance (if your caring needs are 'substantial').
---
Attendance Allowance Rates 2021
The table shows the two different rates available (lower and higher rate) determined by the level of assistance needed.
| | |
| --- | --- |
| Rate per Week | Level of Attention and Supervision Required |
| £59.70 (lower rate) | Frequent help or constant supervision during the day, or supervision at night |
| £89.15 (higher rate) | Help or supervision throughout the day and night (or you have a terminal illness). |
Read our article explaining how and when your benefits are paid to confirm what kind of an account you need to give details on (e.g. a secure bank account).
Also, the other benefits you can claim if you get Attendance Allowance include:
Council Tax Reduction
Pension Credit
Note: The benefits office will confirm whether you qualify or can get the increased payments.
---
Reporting a Change in Circumstance
It is the circumstances of the disability itself that affect how much you can get. So for example, changes of circumstances can mean you move between the lower and higher rates.
Therefore, if any of your circumstances change you must contact the helpline.
Attendance Allowance Helpline
Telephone: 0800 731 0122
Textphone: 0800 731 0317
NGT text relay (if you cannot hear or speak on the phone): 18001 then 0800 731 0122
Monday to Friday: 8am to 6pm
Check phone rates before calling
The most common circumstantial changes include things like: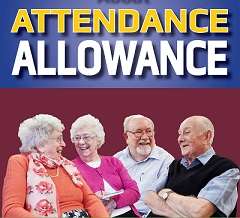 Changes in condition or the level of help required.
Stays in hospital or a care home.
Spells in custody (e.g. imprisonment or detention).
Trips abroad (for more than four weeks).
Besides that, you must also use the helpline to notify them about:
A change of name, address, or bank details.
Changes made to your doctor's details.
A request to stop receiving the benefit.
Because Attendance Allowance is not means-tested the amount you earn or have in savings will not affect this type of welfare benefit.
Note: Failure to report changes can end up as an overpayment. You would have to repay any overpaid benefits and you may also get a £50 civil penalty.
---
Attendance Allowance Eligibility
Having already reached State Pension age you will qualify for Attendance Allowance if (all must apply):
You have a physical disability (which can also include sensory disability, such as blindness), a mental disability (which can also include learning difficulties) – or both.
The severity of your disability means you need help caring for yourself or you need someone to supervise you. It can either be for your own safety or for someone else's.
Unless you are terminally ill, you needed the help for at least six (6) months.
---
Also, to meet all the eligibility criteria you must:
Be in Great Britain when you make a claim. Some exceptions apply (e.g. for members and family members of the armed forces).
Have been in Great Britain for two of the previous three years (except for refugees or people with humanitarian protection status).
Be habitually resident in the United Kingdom, Isle of Man, the Channel Islands, or Ireland.
Not be subject to immigration control (does not apply to sponsored immigrants).
Special Rules for the Terminally Ill
A different set of rules apply to claimants not expected to live for more than six (6) months. In this case:
There is a waiver of the six month qualifying period for the illness.
You would get the higher rate by automatic process (if eligible).
If You Live in a Care Home
Most pensioners living in a care home have their care needs paid for by the local authority. Therefore, in most cases you cannot claim Attendance Allowance in a care home.
Note: If you are paying for all your care home costs yourself you can still make a claim for Attendance Allowance benefit.
---
Attendance Allowance Assessment Criteria
You do not usually need to attend a medical assessment for Attendance Allowance. But, it may be necessary to check for eligibility in cases where it's unclear how a disability or illness affects the claimant.
If you need an assessment, a healthcare professional would conduct the examination. You would get a letter informing you why you need it and where to attend.
Note: You cannot claim Attendance Allowance if you are already getting the Disability Living Allowance (DLA) or the Personal Independence Payment (PIP).
---
Claiming Attendance Allowance
If you're disabled and at least State Pension age you can use the Attendance Allowance claim form on the GOV.UK website to apply for financial help for your personal care.
After filling in claim form AA1 you should send it to:
Attendance Allowance Unit
Mail Handling Site A
Wolverhampton
WV98 2AD
If you call the Attendance Allowance helpline (details above) they will send you a copy of form AA1. They can also provide alternative formats (e.g. Braille, large print, or audio CD).
How to Backdate a Claim
Attendance Allowance is backdated to the date of a claim. As a rule, it will be the date that the office receives your form or the date you call the enquiry line (providing you return the claim pack within six weeks).
Because they would not be expected to live more than six (6) months, terminally ill claimants would get Attendance Allowance quicker.
You would need to:
Complete the standard Attendance Allowance AA1 claim form (details above).
Ask a doctor for form DS1500 (or a healthcare professional. They can either send the form to the DWP on your behalf or give it to you for completion.
You do not need permission to carry out this step on behalf of someone else (e.g. a terminally ill person). The Attendance Allowance award letter does not mention the 'special rules'.
Challenging a Benefits Decision
If you disagree with a decision about your claim you will be able to challenge a benefit decision (e.g. a process that asks for mandatory reconsideration).
You can complain about any organisation that provides a service for the Department for Work and Pensions (DWP). Use the same contact information above if you are not happy with the service you received.